Be part of the Exhibition
#ITSLisbon2023
Be part of the Exhibition
id leo in vitae turpis massa sed elementum tempus egestas sed sed risus pretium quam vulputate dignissim suspendisse in est ante in nibh mauris cursus mattis molestie a iaculis at erat pellentesque adipiscing commodo elit at imperdiet dui accumsan sit amet nulla facilisi morbi tempus iaculis urna id volutpat lacus laoreet non curabitur gravida arcu ac tortor dignissim convallis aenean et tortor at risus viverra adipiscing at in tellus integer feugiat scelerisque varius morbi enim nunc faucibus a pellentesque sit amet porttitor eget dolor morbi non arcu risus quis varius quam quisque id diam vel quam elementum pulvinar etiam non quam lacus suspendisse
The ITS Congress provides an unparalleled relationship building access to the European ITS community. Exhibitors and Commercial partners are key in contributing to the success of a Congress. Attracting everyone from the most established, innovative and recognisable companies and key opinion leaders in the mobility sector. By exhibiting, you position yourself in the marketplace for the future of mobility.
Early bird
Standard Rate
 
Until 15 Dec 2022
As of 16 Dec 2022
Raw Space
435,00 €
490,00 €
Equipped Booth
5.050,00 €
5.550,00 €
Co-Exhibiting company*
950,00 €
950,00 €
Start-up
1.350,00 €
1.500,00 €
Start-up
1.350,00 €
1.500,00 €
Prices are excl 23% VAT
Minimum Floor space sold is 9sqm
Book now!
*The co-exhibitor fee covers the cost of the development of an individual company app profile & visibility on website. In case of a stand with multiple companies on it without any co-exhibitor fee, only the main exhibitor who have booked the space will be mentioned in the App, website and other communication.
COMMERCIAL PARTNERSHIP AND EXHIBITION
Jerome Buchanan
T: +32 2 400 07 27
E:salescongress@mail.ertico.com
If you have any questions regarding your Exhibition & Sponsor Management, please contact
Irene Sanchez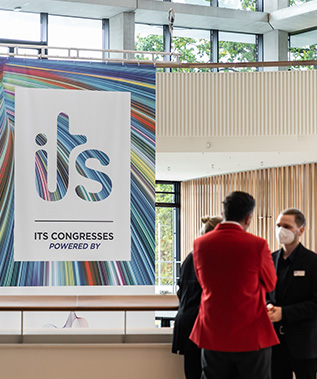 Find out why influential organisations like to work with the


ITS Congresses



Listen directly to Commissioners, Sponsors, Speakers and Exhibitors on why the ITS European Congress in Toulouse is the only smart mobility event you need to attend this year.